"Securely connecting the world through decentralized innovation – powered by blockchain."
Blockchains are an emerging technology pattern that can radically improve banking, supply-chain and other transaction networks, giving them new opportunities for innovation and growth while reducing cost and risk.
It is a shared public ledger. It uses the Blockchain Technology for keeping the transactions highly secure. The blockchain is a list of blocks that form the database in which transactions are written in an append only manner. The Miners mine the blockchain to create new blocks.
Customers can create contracts which are embedded in the code. Hence, whenever the code runs, the contract attached to the transaction is executed. A consensus systems with a group of peers in the network ensures that the transaction is valid, and on acceptance of majority, the contract is executed.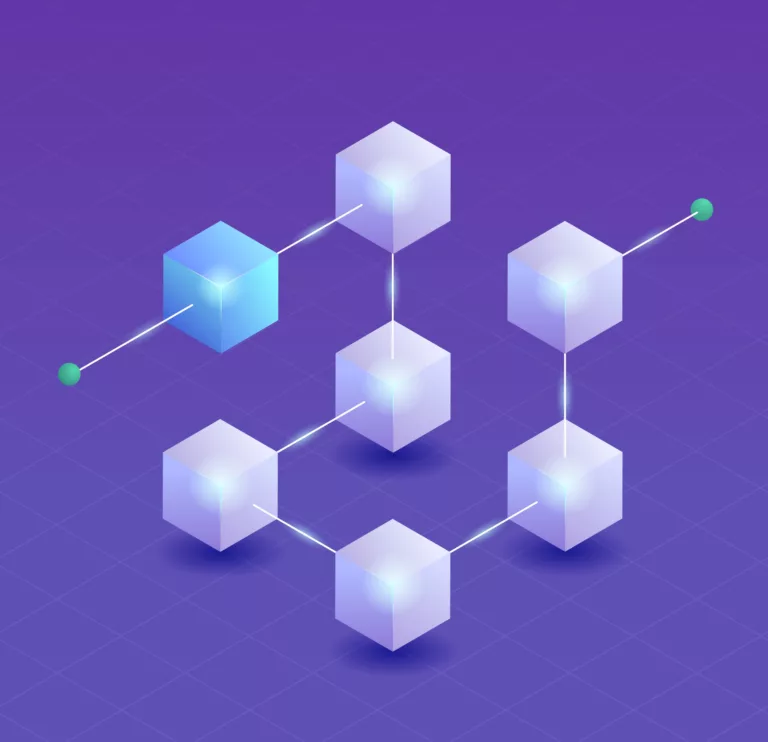 Powerful Features of Blockchain
Access to the shared ledger is permissioned
Only authenticated parties get access to the ledger and permissions are configurable. The benefit is that ledger access can be controlled so that only parties that you want to access it can do so.
The shared ledger is replicated and distributed; every permissioned participant gets a copy of the same ledger. The benefit is the increased transparency of information.
Transactions are encrypted
Only those parties with separately provided security certificates can un-encrypt transactions.
This means that transaction details remain secure and unreadable to all but the transaction's explicit stakeholders.
Immutable transaction chains
Sets of transactions are grouped up into blocks and the blocks are then written to the ledger.
Each block also holds the hash value of the previous block, creating a linked chain of blocks that can't be changed.
This enables assets to be traced back to their origin through every update stored in the transaction record and linked by the chain, thus the transactions are Immutable.
Network verified transaction
Participants in the business network agree that the shared ledger is the single source of truth or System of Record, which brings the benefit of fewer disputes about discrepancies in records of transaction details between parties.
Possible Blockchain Use Case Summary
There are numerous blockchain solutions being developed and implemented across various industries. GlobalXperts has internal resources and external partners that can tackle any of your Blockchain needs. Here are a few examples:
GlobalXperts Blockchain Solutions aims to leverage the technology to enhance efficiency and competitiveness in the marketplace. Here are some ways a company might use Blockchain Solutions to achieve your goals:
Consulting Services:

GlobalXperts offers consulting services to help businesses understand the potential applications of blockchain in their industry. They can assess the company's existing processes and identify areas where blockchain technology can be integrated to improve efficiency, reduce costs, or enhance transparency.

Custom Blockchain Development: GlobalXperts team develops customized blockchain solutions tailored to the specific needs of their clients. This involves designing and implementing private or permissioned blockchains that enable secure and transparent transactions within a specific network of participants.
Smart Contract Development: GlobalXperts may specialize in creating smart contracts, self-executing agreements that automatically enforce the terms and conditions encoded within them. Smart contracts can streamline business processes, reduce the need for intermediaries, and ensure trust and efficiency in various transactions.
Integration and Interoperability: GlobalXperts can assist businesses in integrating blockchain solutions into their existing systems and infrastructure. They may provide guidance on how to seamlessly connect blockchain networks with legacy systems, ensuring data consistency and interoperability.
Security and Auditing: GlobalXperts has a focus on enhancing the security of blockchain implementations. They can help businesses implement robust security measures to protect against hacks, data breaches, or unauthorized access. Additionally, they may offer auditing services to verify the integrity of blockchain networks and transactions.
Training and Education: GlobalXperts could offer training and educational programs to empower businesses with the knowledge and skills required to adopt and leverage blockchain technology. This involves workshops, seminars, or online courses tailored to different levels of expertise.
By enlisting our company to provide blockchain solutions can help businesses become more efficient and competitive in the marketplace.
Fill out the form below and one of our experts will be in touch shortly.